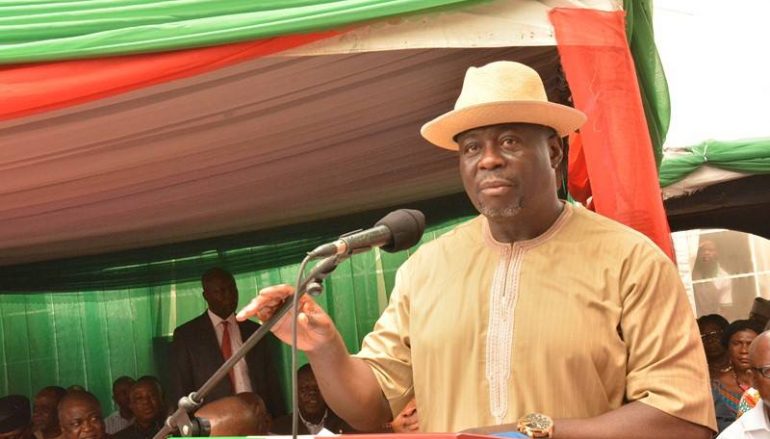 Paul Ekpo: A Harvest Of Mercurial Performance
– Samuel Ayara
Until the second decade of the current millennium, repressiveness, impunity, and high handedness in administering a political party were the only module for measuring the effectiveness of chief executive officers in such beats, which freely explains the dirty game taunt it earned. In that era, intelligence, humane disposition, tact, patriotism and character were second fiddle considerations in settling for who leads a political movement, which at that time had power grabbing without commensurate benefit to the populace as a lone caste.
From the murky political waters where men thought more of themselves, emerged a patriot who has challenged the status quo in re-writing the evolution of party administration in this part of the globe; Obong Paul Ekpo. On his advent, with folded sleeves he grabbed the most potent tools in his bid at salvaging the fortunes of the terribly muddled political party leadership, an assignment that has changed the perception of countless several, to the beauty of a selfless and development-centered leadership.
Blessed with the rare fortune of seeing life from a wide range of social prisms, Obong Paul Ekpo's emergence as State Chairman of the Peoples Democratic Party in 2012 may not have been viewed as such a mercurial choice. In the obvious, it never presented any close to one, as it was easier to point it as intended to facilitate a power deal, since he most definitely had no credential in political party administration other than those of the corporate world and public service, where he is widely adjudged to have done well.
Early days of Chairman Paul's emergence may have been a subject of wild speculation over where his loyalty anchored. Never mistake his deep-rooted culture of gratitude for what it is not, this is one man whose loyalty in the long run has proven to remain with the people; which he has severally shown in the moments of discomfort he braves at ensuring everyone gets his due, even when situations present unfavourable to put virtue above individual gains.
As if trained in systems disruption, the Etinan born maverick of political administration did not take long before completely demystifying the untoward standard practices that had become the norm with party chief executives. The reign of impunity and abuse of power was replaced with an era a Chairman of a government party could freely seat among his people to openly brainstorm and embrace ideals that would help build a formidable and respected political family.
The entire state may have watched in awe how Chairman Paul disentangled the succession web for former Governor Godswill Akpabio, when the conversation raged past a discourse to a near war situation. Until now, the Federal Constituency Town Hall meetings the Party under his leadership in 2014 held to feel the pulse of the people as it concerned the 2015 succession, remains the most brilliant transaction that has sustained the soul of the party. One wonders what shreds of the Peoples Democratic Party's fabric would be left; if he never applied such tact in dealing with the political monster that threatened the unity of Akwa Ibom State at the time.
Bridging the gap to establish a status mix has been a huge positive to the party in the state, which now opens to the concern and aspiration of every member regardless of the social, financial and ethnic strata they belong. It is unarguable that under Obong Paul Ekpo, the PDP has far less intraparty conflicts, the courtrooms are decongested of lawsuits arising from unsatisfactory conduct of party processes. The last seven years of Ekpo's stewardship have greatly reduced agitation by party men and women, as political god fatherism has lost its hold, with the party now revolving round the people and their choices.
With this repository of humane politics, minority indigenes, shallow pockets and political greenhorns are no longer taken for granted as they are allowed an equal opportunity to aspire on a level playground with those in the advantaged class. Quite often than not, tales of new political structures inundate our political space, because he has more than any school of thought ever predicted, opened up the lawns to allow everyone a voice; a gesture that has made the party's swelling following both possible and sustainable.
Take his soft speak, humility and mien for granted at your peril, with these virtues he has dared where angels dread and could not have become the Chairman Forum of PDP State Chairmen in the country for nothing. What Paul Ekpo lacks in vicial inclinations, he has roundly made up with wit, intellect and tact, which has changed the whole narrative of brute political dispositions to hand the party a culture of peace and serenity; firmly putting it on winning ways.
At the risk of stating what is already known, there is yet to exist a record that shows a time more young persons were allowed key roles in the operation of the party than under Chairman Paul. This he has so indulged to the chagrin of those fixated in the old order, which spare no thought opposing why he is exploring the advantage of the energy and mental resource of young people who were hitherto good enough as political thugs, in advancing the frontiers of the party administration.
One of the renowned ideologies in political party leadership in our clime has been working the citizens to swell the pockets of party leaders, until Paul Ekpo came never was swelling the pockets of the citizens by the party considered a priority. As of last count, PDP has done more of charity across the State; they call it politics of humanity, where thousands of citizens are beneficiaries of the numerous vista of empowerment; which have produced for the state more entrepreneurs and skilled professionals than any charity organization ever scratched.
A reflection on events that preceded the just concluded 2019 election where Governor Udom Emanuel and other candidates of the party emerged victorious puts Paul Ekpo up as a class act in resoluteness, resilience and mobilizing people to a common goal. Leading the campaign trail across every nook and cranny of the state, he did not only appeal for the people's vote, but inspired hope and faith in the electorates in the languages they understood. As a leader, he made himself a ready brick of protection for all the party stood for and the one hundred percent success recorded in that election could not have been achieved without the Midas touch he brought to every process in the build up to the elections.
Startling revelation of the sacrifices he made in prosecuting the elections have undoubtedly put more than a generation in debt of gratitude that he did not fret at the countless episode of events that could have dampened his morale, but rather chose to hold through and stick to the commitment he held for a greater and better Akwa Ibom State. It is in public domain that to the detriment of individual trophies and gains Paul Ekpo stood his grounds to set for the State an upwardly bound political narrative, where one man's aspiration can never distract our collective destination.
Always looking out for the good of others, one is taken aback if anyone ever looks out for him; open to people of all shades of opinion and ever on hand to proffer solutions, onlookers lurk round the corners waiting for when his labour of love for the party, people and state will be duly compensated. Having done all to stand tall till now the least we can do is stick by him to gloriously end an era acclaimed to have felted humanity into the political DNA of Akwa Ibom State.
We may not be a clime that celebrates mercurial performances like what the Peoples Democratic Party under the Etinan born, graduate of Political science, manager of material and human resources has typified, until we support him complete his good works on a strong note.
Take a bow, our mercurial performer; Obong Paul POLITICS Ekpo!
Samuel Ayara writes from Ibong Otoro in Abak Local Government Area.