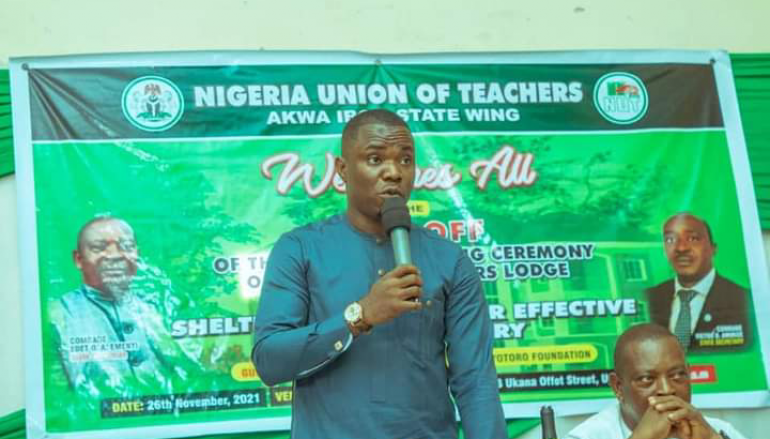 NEWS
In keeping with the Akwa Ibom State PDP's entrenched tradition of deepening harmonious relations with diverse unions and stakeholder groups, last week, I attended, as representative of the State Chairman of PDP, Rt Hon. Aniekan Akpan, and performed, the duties of the Chairman on the occasion at the Groundbreaking Ceremony of the Akwa Ibom Teachers Lodge organised by the Nigeria Union of Teachers, Akwa Ibom State Wing.

I told the teachers who gathered at the event that the Peoples Democratic Party in Akwa Ibom State will continue to stay as a dependable partner and ally to organised groups, unions and movement whose day to day activities and job roles contribute meaningfully to the growth and development of our state her people.

I commended the vision behind the decision of the NUT in Akwa Ibom State to erect an edifice that will serve as lodge to teachers in Akwa Ibom State and assured them of our Party's ancillary support towards the completion of the project.

While also delivering the Akwa Ibom State PDP boss remarks at the event, I reechoed the pledge of our party to continue to produce leaders in Akwa Ibom State who will continue to accord top priority to the welfare of Akwa Ibom people.

Congratulations to the Nigeria Union of Teachers.

Ladies and Gentlemen….It's the weekend!! 😊😊😊 🥂🥂🥂

Photos: The phenomenal Chrysantus Okon of the PDP Publicity Secretariat.