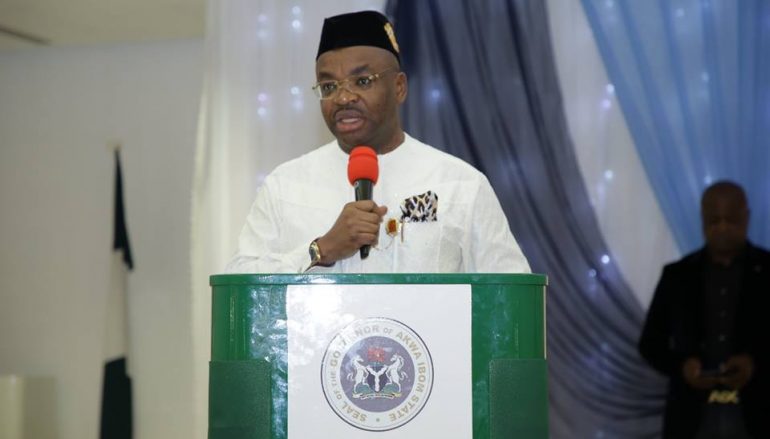 PDP Will Continue To Rule In Akwa Ibom – David Lawrence
Honourable David Lawrence is the Deputy Chief Whip of the Akwa Ibom State House of Assembly. The lawmaker, who is  representing Eket State Constituency, spoke on his experience as a first time lawmaker, the possibility of the Peoples Democratic Party (PDP) returning to power, among other issues. TEMIDAYO AKINSUYI brings the excerpts:
Ever since you became a lawmaker, how has the experiences and challenges been?
We took oath of office on June 8, 2015 and I tell you the experience has been exciting and tedious. As a legislator, you are saddled with a lot of responsibilities ranging from law making, representation and looking at the needs of your constituents.
Could you talk about the recent empowerment programme you embarked upon in your constituency?
The issue of empowerment basically is new to the legislature. What we commonly have is what we should call constituency briefing where you tell your constituents or give them your scorecards what policies you have been able to bring to bear in the House of Assembly, what you have contributed in enhancing the policies of government in terms of oversight functions and so on. This is just a new dimension to it. People expect you to also give back to them. It has become fashionable to set aside a day to brief the people of your work as someone carrying their mandate and also show some benevolence but in this case, it is just a day you talk to make this open demonstration but empowerment as far as the lawmaker is concerned is a daily affair. Right from the time we went into office, we embarked on empowerment programmes like scholarships, paying stipends to some of our constituents for example, in my case, I have over 35 people I pay some allowance to from inception of my administration till date. The wages ranges from N25,000 to N100,000. Last month, we paid bursary to about 300 students from my constituency. On this one, the state assembly is seen to be the peoples' assembly.  Almost all my colleagues have also done their constituency briefing and empowerment but mine is one of those that stood out because of the quantum that was given out. For example, no house members has given out 28 cars, 35 deep freezes, 35 generators, 35 televisions in addition to sending some youths on training on some vocational skills like pipeline welding and fitting, rigging job, these are the kinds of expertise needed at the oil and gas field. We also sent some on fashion designing and most of them have graduated. We gave out 16 sewing machines and dryers. It was a mega empowerment programme. We did that to appreciate people and most of them are recognized like the vehicles under the constituency transport scheme because we expect most of them to use it to generate incomes for themselves. Those we gave fridges are expected to use in their fish related business as my place is a riverine area. They use the fridges to stock fishes.
Hon David Lawrence
There is this impression in some quarters that the House of Assembly is a rubber stamp to the governor, how true is this?
It is not true. If you are rubber stamping development, you rubber stamp industries, you rubber stamp infrastructure, you cannot call that rubber stamping. We are christened, 'The Peoples' Assembly.' Whatever would be to the benefit of the average Akwa Ibom person, we as legislators support such programmes of the government. There is no programme that the executive would bring that is inimical to the progress of an average Akwa Ibom person that we would rubber stamp, we would kick against it. No responsible government would embark on a policy that would negatively affect the citizenry. Most of the bills that we passed, I think about 70 per cent of the bills are private member bills. Those are the ones that come from members of the House of Assembly like my bill which has to do with a bill for a law to create a signage and advertisement control agency. Those are the kinds of bill we make. The ones that come from the executive are just 30 per cent. Most of the policies are from the legislature, so there is no way you can really say that we are rubber stamp. If it comes to maybe the government trying to take advantage of what we call part funding with the federal government and it requires some approval for them to take some advantage of some policies which is co-funded by the state and national government, we allow the state government to do that because at the end of the day, it is beneficial to the average Akwa Ibom people like SUBEB which sometimes most of their programmes, we still have to co-sponsor by some percentage. I don't think that we are really rubber stamping except we are rubber stamping development. The work of the legislature is done in two parts; the executive and plenary sessions. In the executive, the house keeping that needs to be done must have been carried out. For example, if the governor sends a message to the house that a particular part needs to be corrected, such is taken care of at that level of engagement which is the executive session done at the plenary. By the time we come out we believe that we may have contributed by making our input in such policy. By the time, it comes out to the plenary it is refined. Also when the governor sends messages to the house, the house does not take a stamp and put on such messages, it has to go through excruciating legislative processes from the committee, public hearing where the public is invited to come and make input and after the committee level, it has to come back as a report to the general house whereby the issue is discussed again before it becomes a law.
Will you be seeking reelection?
Yes, I think with the little I have been able to enumerate in terms of the quality of representation that we give to people and most of the strides we have taken are mostly unprecedented. We have been able to bring to bear in my state constituency laudable developmental projects. I am currently building an ultra modern market in Eket. We are embarking on Eket Residential Estate. Currently we are reconstructing Eket Sport Stadium. We are also involved in a six lane super highway, it is called Ibom Super Highway. These are some of the things we have been able to attract to our community and on the floor of the house, we have been very vibrant and like I told you, we have been able to sponsor bills that have become law and we have sponsored several other bills.
We have been a voice in my constituency and I am the first person that has been able to make his way to the leadership of the house right from inception. That also gives us credit. The people are very happy with my representation and they want me to come back to continue with the good work that I am doing.