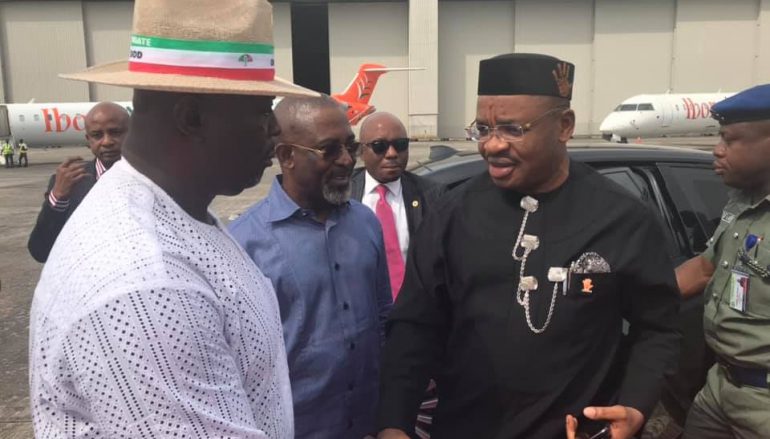 We Dedicate Our Victory To God – Akwa Ibom PDP
With the conclusion of collation and the declaration of winners across 9 federal constituencies and the 3 Senatorial districts in our state, and the overwhelming victory that our party has recorded, it is only fitting and apt that we dedicate this victory to the Alpha and Omega, the cornerstone of our campaign and the author of our victory. When we started this campaign, we christened it Divine Mandate-only God and dedicated it to the God of Heaven. While others trusted in horses and chariots, we trusted in the Lord and today, we have been vindicated. To God alone, we return all our praise, glory and adoration.
We congratulate all the winners and salute those who were not successful. We invite them to join forces with the winners to build a stronger and better state and country. The doors of our party will always remain open to all who are interested in joining us to build an enduring legacy of peace and prosperity in our state.
We thank Akwa Ibom people for the confidence reposed in our party as the platform through which we can build an Akwa Ibom of limitless and endless opportunities, free from all forms of vices. We enjoin all our citizens to continue to stand with the PDP in all elections, especially the Governorship and House of Assembly elections scheduled for March 9, 2019.
We are deeply grateful to the Leader of our party and the one who is currently steering the wheels of governance in our state, His Excellency, Mr Udom Emmanuel, for his God-centered leadership, maturity, focus and good hearted disposition. The entire membership of the party is very proud to have a leader like him.
Our partymen and women deserve all the gratitude we can offer. They braved the odds and withstood intimidation and harassment. Unjustified arrests and assault did not deter them. We will always strive to build a party that will have the capacity to accommodate as many interests as possible.
This indeed is a historic moment for every Akwa Ibom person who by this token has demonstrated indeed that sovereignty lies with the people. We assure you today as a consideration for our appreciation that we will continue to encourage our elected party members not to renerge on the unwritten terms of the social contract that this mandate imposes on them.
To Only God be all the Glory.
Signed:
Obong Paul Ekpo
State Chairman
People's Democratic Party
Akwa Ibom State Chapter