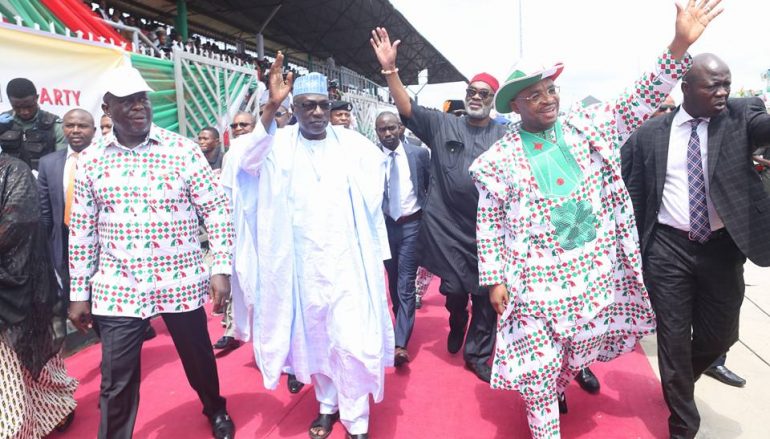 Help Us Capture Other States – Makarfi To Akwa Ibom PDP
---
National Caretaker Chairman of of Peoples Democratic Party, PDP, Senator Ahmed Makarfi, has expressed happiness with the commitment and faithfulness of Akwa Ibom people towards the party, calling on them to help to capture other states for the party ahead of the 2019 elections.
Makarfi, who spoke yesterday, in Uyo, during the formal flag -off of the PDP campaign for the local government council election, said evidence has shown that Akwa Ibom was one of the states in the country that would help the party reclaim power in 2019.
He said: "We are only here as a formality. PDP is like a religion in Akwa Ibom State. Today is a further evidence that that is what it is. I have no doubt that the entire local government councils will be PDP under a free and fair election because the PDP believes in a free and fair election.
Gov Emmanuel, Akpabio, Ors Assure Makarfi Of Total Victory In Council Election
"That is why we relinquished power irrespective of the fact we had some reservations and observations. We gave power and we did not make any trouble.
"I am happy that the PDP is one family here. In 2019, we want to record 100 percent for PDP in the country and Akwa Ibom State is a leading state that will make that happen. Therefore, we are a government in waiting.
"Please do not allow rumour mongers to come between you. Because the devil will try to divide us. Don't allow them to distract you, help us rather, to capture other states."
The PDP National caretaker chairman urged Akwa Ibom people to give their governor, who is the leader of the party in the state, massive support that would help the party succeed.
[VANGUARD]