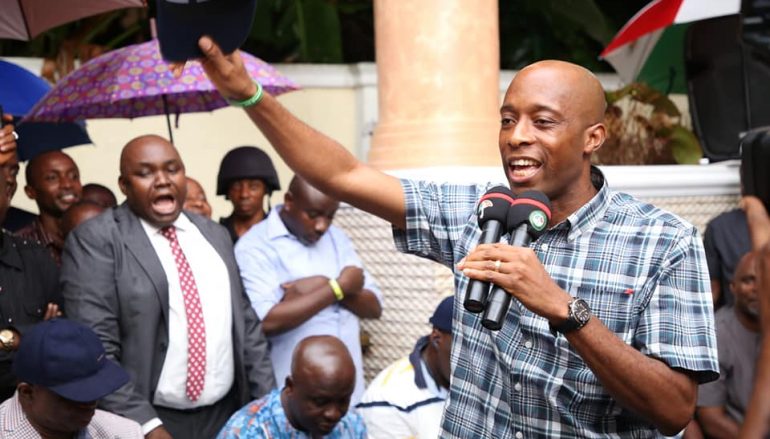 2019: Onofiok Luke Declares For House Of Reps, Consults A'Ibom PDP Chairman
By Martins Inyangetoh
The Speaker of the Akwa Ibom State House of Assembly, Barrister Onofiok Luke, has officially joined the contest to the Etinan Federal House of Representatives' seat as he on Friday, 29th June,2018 consulted the State Chairman of the Peoples Democratic Party (PDP), Obong Paul Ekpo, and pledged to give the people of the area effective and excellent representation at the National Assembly from 2019.
The Speaker who arrived at the Nkana home of Obong Ekpo, Etinan LGA alongside his wife, Dr Uduak Luke, members of his Campaign team, supporters amidst cheers, was welcomed by the Chairman.
Speaking during the consultation, Speaker Luke said that his desire to represent the people of the Federal Constituency is borne out of the clarion call by the constituents to represent them in the green chambers and his adherence to the call is as a result of his patriotic zeal to continue in giving effective and excellent representation whenever opportunity comes calling on him, especially now that he is called to serve at the National Assembly, saying if elected in 2019, the constituents will appreciate the fact that in his time, a standard federal constituency office will be built at the seat of the Constituency which is Etinan, a befitting liaison office in the constituency will be built, councillors will be undergoing internships in Abuja at the International studies among others.
Recounting his good works for the women, men and youths of Nsit Ubium, Onofiok said "as for you my constituents in this Federal constituency, be rest assured that am your own and so i will do my best to help encourage startups amongst you when elected, while appealing to the party members and supporters to remain united for peace, love and development to continue bear good fruits for akwa ibomites under the leadership of Governor Udom Emmanuel's PDP led State Government."
In his response, the State Chairman who is also the Chairman of all PDP State Chairmen, Obong Paul Ekpo thanked the Speaker for deeming it fit to come for the consultation, adding that the gesture is timely.
Ekpo used the medium to appeal to all intending party aspirants, to ensure that they give due preference to the zoning position of the party, stressing that there is no going back from that decision of the party.
He encouraged every party member that desires to seek for any elective position in the forthcoming election to do same in line with the party's resolution as enshrined in the constitution of the party.